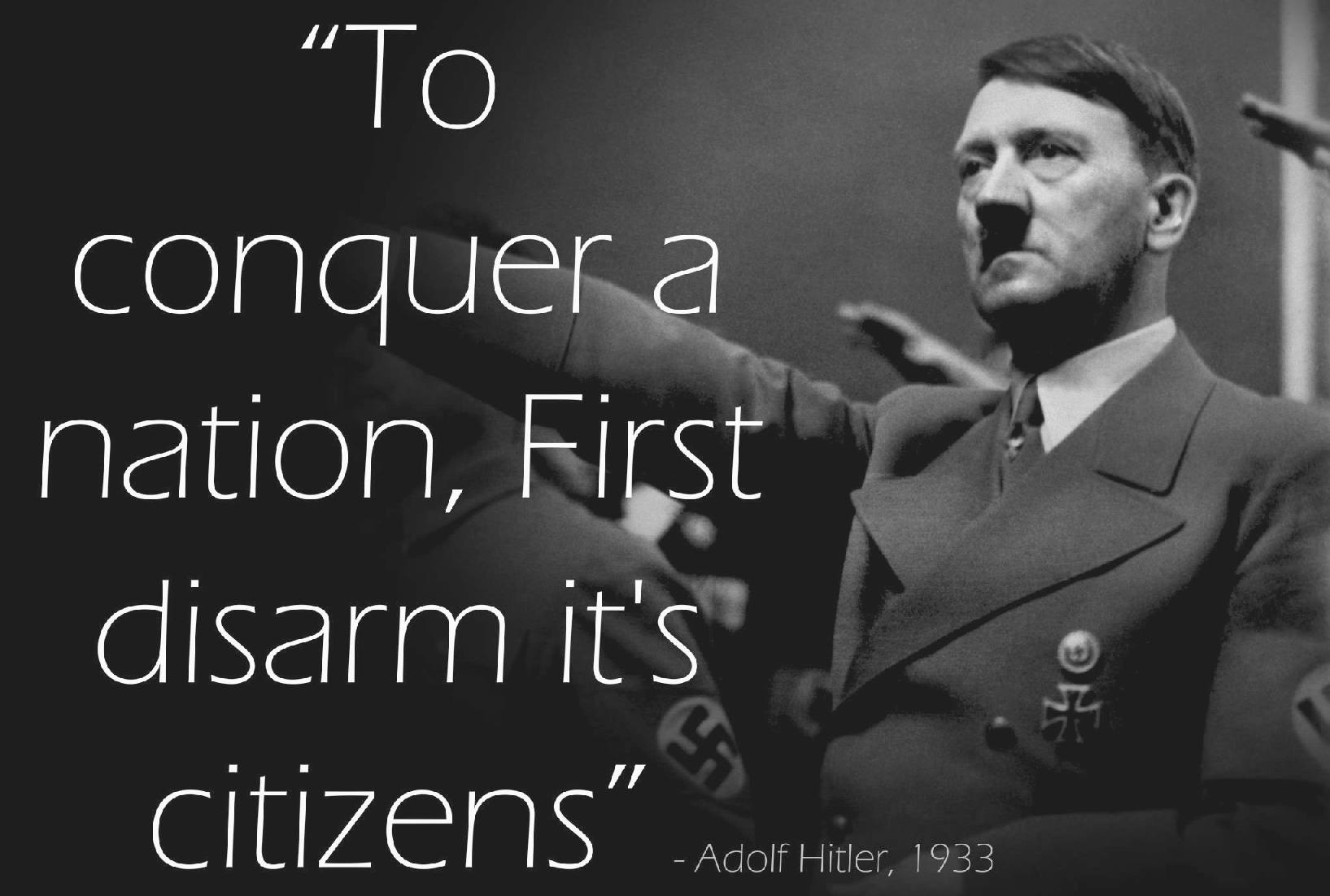 Adolf Hitler is right in that if you want to take control of a nation as a dictator, you must disarm the ordinary citizen and put the fear of god up him, lest he complain about injustice. It is alleged that this is precisely what is happening in the United Kingdom, with legal aid cuts, no right of appeal and immunity form prosecution for police and council planning officers.
Sussex police are accused of Article 3 torture in the inhumane treatment of a 74 year old man during arrest and transport for breaching a bail condition.
It is alleged that tempers were frayed and orders given to quash the actions of a pensioner, John Hoath, where he was insisting that Sussex police should be investigated by an outside force for collecting four (section 1) firearms from a known criminal, Winston Leachman, then giving him a receipt, but not then arresting Mr Leachman for having firearms without a Licence. This of course being an offence to which there is no defence. Difficult behaviour to explain at best!
As a result of the firearms revelation concerning Leachman, Mr Hoath had written to Katy Bourne and Gillian (Gilly) Jones (Surrey police) umpteen times, asserting that Sussex police had fixed his trial, and that their key witness was in their employ or under their protection, where this force had issued a receipt to a person after collecting firearms from them, knowing that that person had a criminal record and no Gun Licence, then neglecting to mention this when the same person was giving evidence at his trial in relation to the growing of cannabis. We say that the Judge and Jury should have been told that Mr Leachman had a criminal record, and of the special arrangement between him and the police!
The suggestion is that Sussex police officers were involved in the growing of cannabis while Mr Hoath was out of the country, not Mr Hoath as Sussex police alleged. Mr Hoath was found guilty of harassment in bringing this matter to the attention of Katy Bourne and Gillian Jones, and sentenced to eight weeks in prison for his efforts to obtain justice.
We understand that Mr Hoath intends to appeal the conviction and take action against being beaten up by police officers - and then told he deserved it - allegedly.
Perhaps the Crown should intervene, where clearly, there is no effective remedy, and also clearly, the police in England appear to be immune from prosecution.
The new Chief Constable in Sussex for 2020 is Jo Shiner.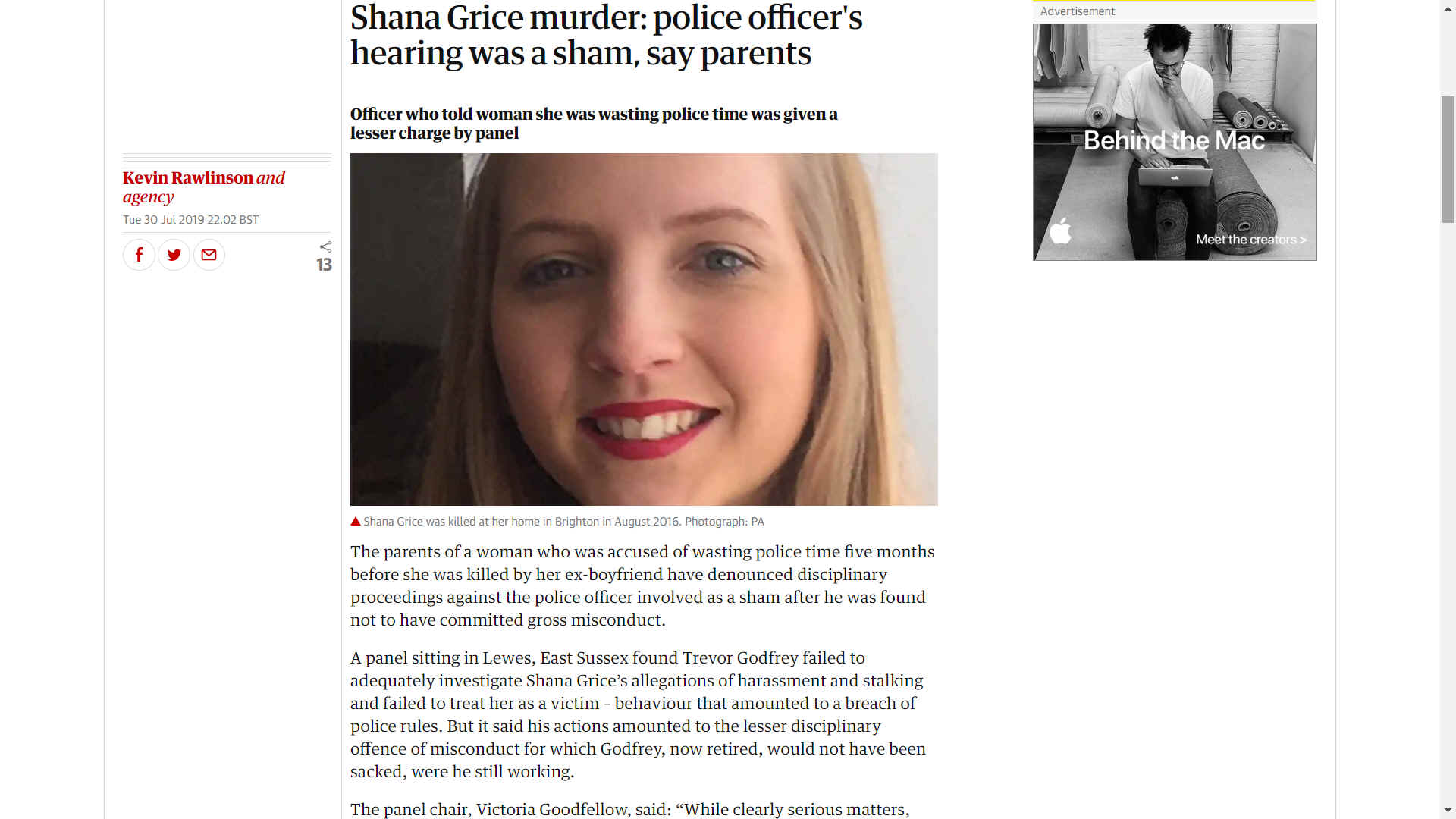 The parents of a woman who was accused of wasting police time five months before she was killed by her ex-boyfriend have denounced disciplinary proceedings against the police officer involved as a sham after he was found not to have committed gross misconduct.

A panel sitting in Lewes, East Sussex found Trevor Godfrey failed to adequately investigate Shana Grice's allegations of harassment and stalking and failed to treat her as a victim – behaviour that amounted to a breach of police rules. But it said his actions amounted to the lesser disciplinary offence of misconduct for which Godfrey, now retired, would not have been sacked, were he still working.

The panel chair, Victoria Goodfellow, said: "While clearly serious matters, they are not enough to mean gross misconduct. We do not attribute any blame on Shana."

Sharon Grice and Richard Green said: "The misconduct charge is a joke and the hearing a sham."

They added: "We can barely believe what we have witnessed these past two days. The panel allowed a wholesale character assassination of our daughter, who is obviously not here to defend herself. Godfrey's testimony only proved his discriminatory attitude, even accusing Shana of coercing Lane. We can barely believe what we have heard.

"To add insult to injury, we have been subjected to aggressive and bullying tactics from Godfrey's representatives, yet we were the ones accused of trying to intimidate him."

The couple asked: "What message does this give to other officers? Even more importantly, what message does it send to victims? We are disgusted and feel thoroughly let down by the process. There is no justice."

Grice, 19, was murdered by Michael Lane at her home in Brighton on 25 August 2016. She had reported Lane to police five times in six months and had been fined for wasting officers' time after she initially failed to disclose their relationship. The harassment case was closed before her pleas for help were properly investigated.

The hearing was told that Godfrey was tasked with investigating an allegation of common assault on 25 March 2016 after Grice claimed Lane had chased and made physical contact with her.

During an interview, Grice made a number of other allegations against Lane, including that he had sent her flowers unsolicited and made numerous attempts to contact her. Lane was arrested and told Godfrey the pair were in a relationship, and provided details of mobile phone messages to back up his story.

Grice admitted she was having an affair with Lane, and in an 84-second phone call Godfrey told Grice she would be fined for wasting police time over the harassment allegations – a decision ratified by police bosses.

Godfrey stood by the decision when giving evidence to the misconduct panel. He said: "She [Grice] lied to police three times. It was only right I advised her she cannot keep lying in police statements and getting people arrested for it."

James Berry, presenting the case against Godfrey, accused him of applying an inaccurate stereotype that a woman could not be at risk from a man with whom she was in a relationship.

Godfrey replied: "I don't have those views … There was no history of violence between them, there was no evidence of violence, or risk, at that time."

He said there was no sign of Grice being harassed. She had admitted that on one occasion Lane had waited outside her house late at night because she had arranged the meeting behind her boyfriend's back.

Godfrey said: "She would be signing her texts [to Lane] with five kisses. This is not harassment. It was a smokescreen to disguise her affair."

He said there was therefore no reason to supply Grice with safety advice regarding her relationship with Lane. "She was in an active relationship with him for six months. I can honestly say, hand on heart, there was nothing there to suggest she was in any form of danger whatsoever."

Summing up the case against Godfrey, Berry said there was a "serious failing" in Godfrey not filling out a risk assessment form.

"Mr Godfrey simply lost his impartiality and Lane became the victim and Shana became the wrong-doer … Mr Godfrey's handling of this case did not represent the impartiality expected of a police officer," he said.

Mark Aldred, representing Godfrey, said: "It is easy to lapse into 'the officer should have done, ought to have done, could have done it differently'. This is about gross misconduct, so there must be evidence or a positive duty to do something in a particular way. Decision-makers don't make a decision in a vacuum."

Lane, 27, was jailed for life with a minimum term of 25 years after he was convicted of Grice's murder.

In April, another officer was found to have committed gross misconduct when investigating Grice's report that Lane had broken into her home with a stolen key. PC Mills would have been sacked, had he not already resigned.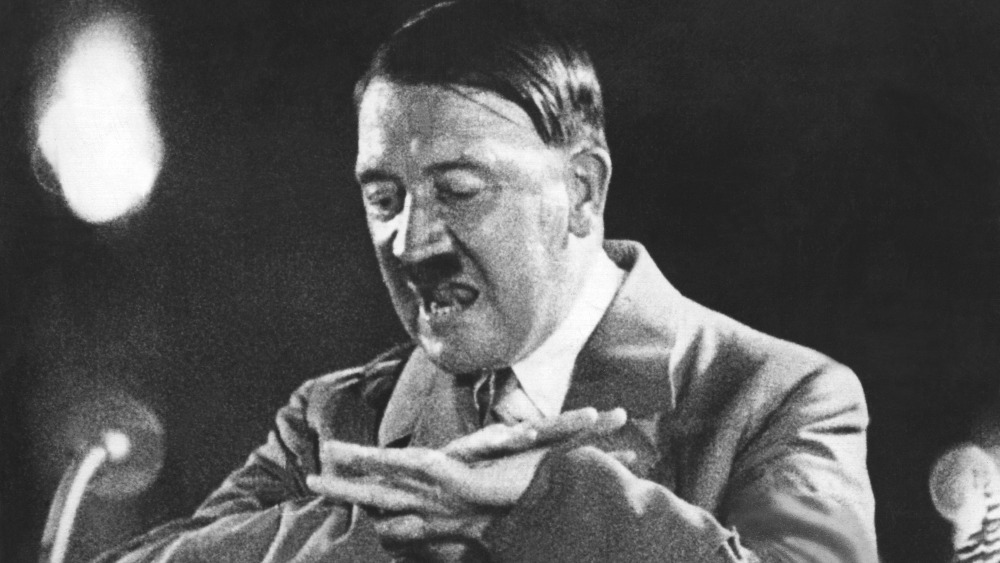 FREEDOM OF THOUGHT AND SPEECH - This website is protected by Articles 9 and 10 of the European Convention of Human Rights and Fundamental Freedoms. The Injustice Alliance avers that the right to impart information is a right, no matter that the method of communication is unpalatable to the State.
Adolf Hitler

German Chancellor

Herman Goring

Reichsmarschall Luftwaffe

Heinrich Himmler

Reichsführer Schutzstaffel

Joseph Goebbels

Reich Minister Propaganda

Philipp Bouhler SS

NSDAP Aktion T4

Dr Josef Mengele

Physician Auschwitz

Martin Borman

Schutzstaffel

Adolph Eichmann

Holocaust Architect

Erwin Rommel

The Desert Fox

Rudolf Hess

Auschwitz Commandant

Karl Donitz

Submarine Commander

Albert Speer

Nazi Architect
Please use our A-Z INDEX to navigate this site